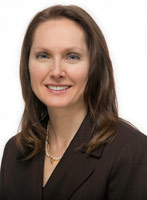 Maria is a Licensed Real Estate Professional in New York and New Jersey. She previously held real estate licenses and worked as a realtor in Virginia and Texas. Maria lives with her husband and four children in Hoboken, New Jersey.
Maria is passionate about real estate and residential construction. She has first-hand experience with gut renovations and working relationships with several local architects, builders and craftsmen. As a mother, she also appreciates the needs of growing families and has a unique understanding of the central role of education in the well-being of her clients' lives.
Maria started out in the consulting business and worked as an account executive for 10 years. Afterwards, she spent 2 years in the residential real estate business with an ever-growing interest in commercial real estate. She also got construction experience while acting as the general contractor on her own brownstone renovation.
Maria received her B.S. in Education and German from Eotvos Jozsef University in Baja, Hungary. She went on to earn her M.B.A. in Finance at the George Washington University in Washington, D.C. Maria spent a year in Vienna, Austria and six months in Potsdam, Germany as the beneficiary of various scholarships.
Maria is a native of Hungary. Her background and circle of friends give her a unique understanding of different cultures. She has travelled extensively in Europe, Asia and Africa.
Languages: English, Hungarian, German, Russian.
Cell phone: 201-595-9010
E-mail: maria@singletongalmann.com